Foreign Affairs Secretary Teodoro Locsin Jr. asked the World Health Organization "to regain the momentum" of tobacco control and consider "evolving and latest scientific information" in solving the global smoking problem.
Leading a panel of Philippine officials, Locsin addressed delegates at the opening of the ninth conference of parties (COP 9) of the WHO's Framework Convention on Tobacco Control being held virtually this week.
The FCTC is a global accord under the auspices of the World Health Organization governed by the COP which is composed of representatives from all signatories to the treaty. The FCTC conducts a biennial meeting to discuss the progress of the treaty's implementation and policy recommendations for its member states. The ninth conference or COP 9 is happening virtually from November 8 to 13, 2021.
During the opening of the conference yesterday, Locsin said tobacco is a source of bad health but acknowledged that it "is also a source of good through taxation."
"Tobacco tax laws fund our poverty reduction, Universal Health Care, and COVID-19 recovery programs. They underscore the importance of tobacco use and funding of the state's most important activities," he said.
Locsin stressed that the Philippines' position is for regulation and taxation, noting that a total ban is not under consideration due to the unwanted consequences that it poses.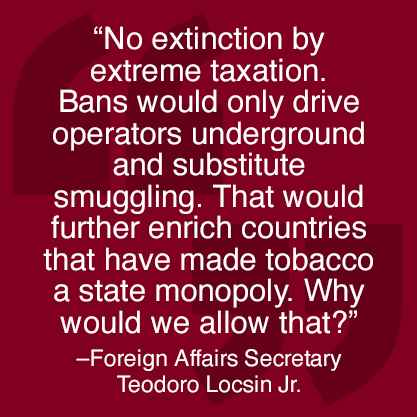 "No extinction by extreme taxation. Bans would only drive operators underground and substitute smuggling. That would further enrich countries that have made tobacco a state monopoly. Why would we allow that?" he said.
Locsin said the Philippines is looking forward to a face-to-face meeting at COP 10 to tackle treaty instruments and technicalities. He also reiterated the importance of inclusivity in the discussions.
"These complex and challenging issues demand active participation of all parties and inclusive consultations with all stakeholders, and we mean all," he said.
The updating reports at COP 10 according to Locsin "must be done with transparency and in full consultation with all stakeholders so that our national experiences are all taken into account and due importance accorded each." He also said that the reports must reflect the latest and evolving scientific information.
Locsin noted that the tobacco industry is making progress in moving away from harmful products by introducing "products with similar satisfaction but with far less harm."
To cover the "far less harmful novel tobacco products," Locsin said the Philippines passed two more excise tax laws which ban the sales of e-cigs to minors and flavorings on vapor products.
"These laws recognize the fundamental difference between various tobacco and nicotine products – and acknowledge the benefits of continuing taxation on revenue rich activity," Locsin said.