The Philippines' House of Representatives on May 19, 2021 approved on second reading a proposed bill that recognizes tobacco harm reduction as a public health strategy by regulating the use of non-combustible alternatives to cigarettes such as vapes and heated tobacco products.
House Bill No. 9007, a consolidation of 23 bills authored by 154 representatives, seeks to establish a clear and effective law and regulation on the manufacture, use, sale, packaging, distribution and communication of electronic nicotine and non-nicotine delivery systems (ENDS/ENNDS) or electronic cigarettes and HTPs in the Philippines.
AKO Bicol Rep. Alfredo A. Garbin Jr., a co-author of the bill, said the bill seeks to reflect tobacco harm reduction in the declaration of policy. He said tobacco harm reduction is a principle supported by no less than the Royal College of Physicians (RCP) in the United Kingdom.
AAMBIS-OWA Rep. Sharon S. Garin, one of the sponsors of HB 9007, said the proposed "Non-Combustible Nicotine Delivery Systems Regulation Act" will fill the gap in local regulation amid the proliferation of sale and use of HTPs and vaping products among Filipino consumers.
It is estimated that there are nearly a million Filipino consumers of vaporized nicotine products and most of them were former smokers who switched to these smoke-free products, which Garin said, are substantially different, less harmful, and better than smoking cigarettes.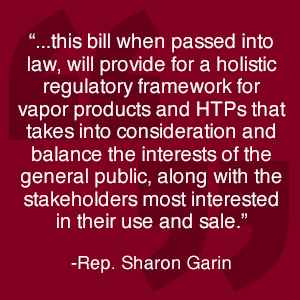 "Thus, this bill when passed into law, will provide for a holistic regulatory framework for vapor products and HTPs that takes into consideration and balance the interests of the general public, along with the stakeholders most interested in their use and sale," said Garin.
Garin said the provisions of the bill were tackled extensively and were approved with an overwhelming 102 affirmative votes with only 12 negative votes and two abstentions after extensive discussions by the Joint Committees of Trade and Industry and Health.
The approved version of the bill recognizes harm reduction measures as a public health strategy by ensuring that non-combustible alternatives to cigarettes are properly regulated.
Garin said, "We envision that this bill will contribute in the protection of public health, not only for the non-smokers but also for the current adult Filipino smokers."
The bill prohibits the sale of e-cigarettes and HTPs to minors, providing that the minimum allowable age for the purchase, sale and use of ENDS/ENNDS or HTPs shall be 18 years old.  
Section 7 also requires retailers to ensure that no individual purchasing ENDS/ENDDS or HTPs is below 18. "Retailers shall verify the age of all buyers by requiring the presentation of any valid government-issued identification card exhibiting the buyer's photograph and age or date of birth," it says.
Garin said the bill aims to address the unintended or potential adverse consequences on the use of these products. "Thus, we have included in this bill, mechanisms on controlling safety risks and preventing youth uptake of all tobacco and nicotine products," she said.
The bill also includes sections on packaging and health warnings which manufacturers, importers and distributors are required to comply with. The packaging shall contain information such as instructions for use and storage of the product, including a reference that the product should not be used by young people and non-smokers; contra-indications; warnings for specific risks groups; possible adverse effects; addictiveness and toxicity; list of ingredients contained in the product; indication of the nicotine content; among others.
The health warning shall have the words, "This product contains nicotine which is a highly addictive substance."
It also specifies that the products shall not be tampered with. Section 5 of the bill provides that all e-liquid receptacles shall be child-resistant, tamper-resistant and shall be protected against breakage and leakage.
The use of ENDS/ENNDS or HTPs shall be prohibited in all enclosed public places except in designated vaping areas. Indoor use of the products is prohibited in schools, hospitals, government offices and facilities intended for minors under Section 14.
The sale or distribution of these products within 100 meters from any point of the perimeter of a school, playground or other facility frequented by minors shall also be prohibited. ENDS/ENNDS and HTP companies are prohibited from sponsoring any sport, concert, cultural or art event
It requires the designation of vaping areas which shall not be larger than 20 percent of total floor area of the building or conveyance but shall not be less than 10 square meters.
It prohibits the addition of the following substances: additives that have carcinogenic, mutagenic or reprotoxic properties; vitamins or other additives that create the impression that the product has a health benefit or presents reduced health risks; caffeine, taurine, or other additives and stimulant compounds; additives having coloring properties for emissions; ethylene glycol; diethylene glycol; diacetyl; and 2,3-pentanedione.
Online sale or e-commerce involving these products is allowed under the bill.
In the proposed measure, the DTI shall set standards for market entry notification and standards on flavors and additives used in the manufacture of e-liquids and refills as well as on electronic components of ENDS/ENNDS.
The DTI, in consultation with the National Tobacco Administration (NTA), shall also set standards on HTPs with regard to consumables and electronic components. Manufacturers of electrical devices shall ensure such devices do not combust or burn the tobacco mixture in HTPs. Manufacturers are required to comply with applicable safety standards as may be determined by the Bureau of Product Standards of the DTI.
"The DTI in consultation with the FDA (food and Drug Administration), the National Tobacco Administration and other concerned agencies shall promulgate rules, regulations and standards, consistent with the provisions of this act on packaging, ingredients, graphic health warnings, detailed information on the allowable nicotine-containing e-liquid, the strength of e-liquids, compliance with applicable electrical standards as well as with applicable industry standards for batteries," it said.
Once the bill is signed into law, the DTI, in consultation with the Department of Health, NTA and other relevant government agencies, will issue the rules and regulations within 90 days from date of effectivity.
Manufacturers, importers, distributors and sellers found in violation of the bill's provisions shall face fine of not more than P500,000 on first offense, not more than P750,000 on second offense, and not more than P1 million or imprisonment of not more than five years on third offense as well as cancellation of business permit.
Meanwhile, Section 23 encourages manufacturers to use local tobacco products for e-liquids and HTPs sold in the Philippines.
In 2016, the RCP released a report which discussed the public health opportunities of vaping (e-cigarettes) as part of tobacco harm reduction.
"Although it is not possible to precisely quantify the long-term health risks associated with e-cigarettes, the available data suggest that they are unlikely to exceed 5% of those associated with smoked tobacco products, and may well be substantially lower than this figure," the RCP said.
Garin said there are at least 32 independent local, international, renowned organizations that confirm that vaping is far better than smoking.
The Senate is also deliberating on its own version of the bill on vaporized nicotine products.