Patients with chronic obstructive pulmonary disease (COPD) who abstained from smoking or substantially reduced their cigarette consumption by switching to heated tobacco products (HTPs) showed consistent improvements in respiratory symptoms, exercise tolerance, quality of life, and rate of disease exacerbations.
This was the key finding of a groundbreaking study by a team of Italian researchers published in March 2021 in the scientific journal Internal and Emergency Medicine. It is the first-ever study to describe the long-term health effects of HTP use in COPD patients.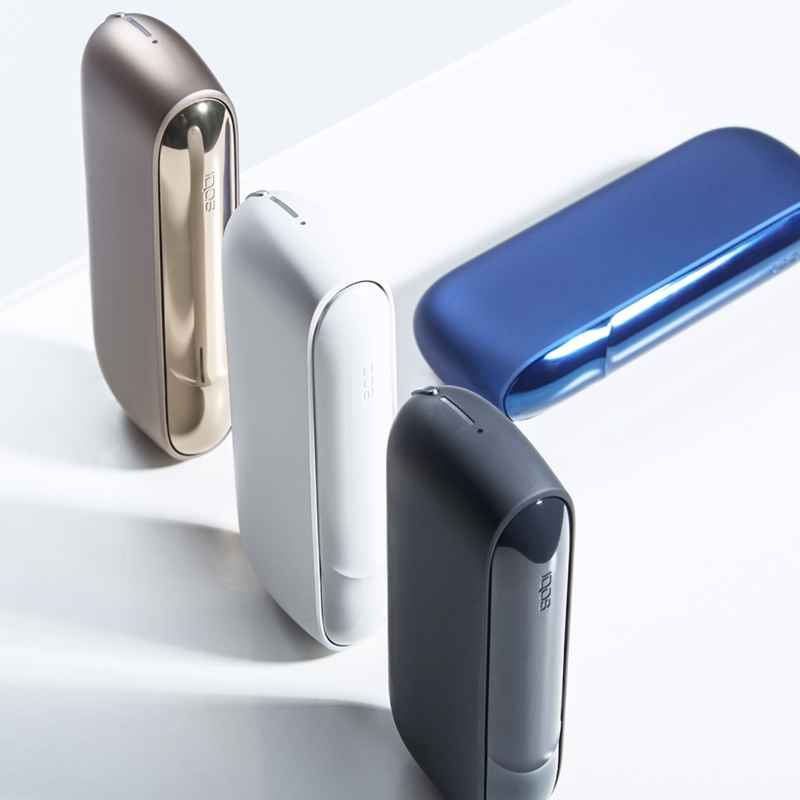 COPD refers to a group of diseases that include emphysema and chronic bronchitis, which causes airflow blockage and difficulty in breathing. It is the third leading cause of death globally. The most popular HTP brand in the world and in the Philippines is IQOS, an electronic device that heats tobacco-filled sticks wrapped in paper to generate a nicotine-containing aerosol. Because the tobacco is not burned, the levels of harmful chemicals produced by IQOS is significantly lower compared to combustible cigarette smoke.
"It is well known that cigarette smoking is a significant risk factor for COPD and abstaining from smoking is the only evidence-based intervention that improves the prognosis for COPD," according to lead study author Prof. Riccardo Polosa, full professor of internal medicine at the University of Catania.
However, the study noted, most smokers with COPD fail in their quit attempts. Approved therapies such as nicotine replacement therapy (NRT), bupropion, and varenicline have only limited success in terms of a sustained cessation in COPD patients who smoke. These patients struggle to completely stop nicotine use and may require prolonged treatment and/or sustained nicotine use to achieve longstanding abstinence from smoking.
"An alternative pragmatic approach for patients with COPD who are having difficulty stopping smoking is that of substituting conventional cigarettes with combustion-free nicotine delivery alternatives to achieve significant health gains," Prof. Polosa wrote.
"Although not risk-free, emerging clinical evidence suggests that…e-cigarettes use in patients with COPD can help patients with COPD abstain from long-term smoking with clinically relevant health gains. More recently, [HTPs have] been introduced for cigarette substitution, which is also gaining popularity and acceptance by consumers worldwide," he noted.
The study noted that in July 2020 the U.S. Food and Drug Administration (FDA) authorized the marketing of IQOS as modified risk tobacco products (MRTPs), the first tobacco product to be legally commercialized with the claim of reducing consumers' exposure to harmful and potentially harmful chemicals when completely switching away from conventional cigarettes.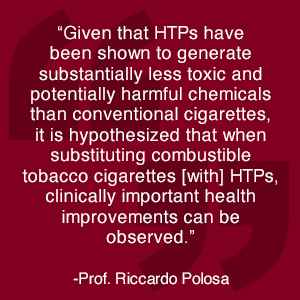 "Given that HTPs have been shown to generate substantially less toxic and potentially harmful chemicals than conventional cigarettes, it is hypothesized that when substituting combustible tobacco cigarettes [with] HTPs, clinically important health improvements can be observed," Prof. Polosa said.
Study method and results
The study monitored health parameters for 3 years in COPD patients who substantially cut down or ceased cigarette consumption after switching to HTPs. Changes in daily cigarette smoking, annualized disease exacerbations (worsening of symptoms), lung function indices, patient-reported outcomes (COPD Assessment Test scores) and 6-minute walk distance (6MWD) from baseline were measured in COPD patients using HTPs at 12, 24 and 36 months.
The COPD Assessment Test (CAT) is a patient-completed questionnaire assessing all aspects of the impact of COPD including cough, sputum, breathlessness, chest tightness, confidence, activity, sleep and energy levels. The 6MWD is a test that measures the distance that a patient can quickly walk on a flat, hard surface in a period of 6 minutes.
These parameters in COPD patients who switched to HTPs were compared to a group of age- and gender-matched COPD patients who continued smoking. Complete data sets were available for 38 patients (19 in each group). Patients who switched to HTPs had a substantial decrease in annualized COPD exacerbations.
In addition, substantial and clinically significant improvements in CAT scores and 6MWD were identified at all three time points in the HTP cohort. No significant changes were observed in COPD patients who continued smoking.
Improving health, changing lives
"One of the main reasons why I became a tobacco harm reduction advocate is because so many patients have improved their health and changed their lives after switching to combustion-free nicotine alternatives. Hearing patients express their gratitude is the most revitalizing experience of my medical profession," said Prof. Polosa who is the founder of the Center of Excellence for the Acceleration of Harm Reduction.
Prof. Polosa presented the results of their novel study during the In Focus: Tobacco Harm Reduction webinar organized by the Global Tobacco & Nicotine Forum (GTNF) Trust on April 27, 2021. The webinar featured public health, industry and public policy experts who presented "whole-of-government" and "whole-of-society" approaches similar to those adopted by the United Nations to evaluate the science on tobacco harm reduction products and to address the challenges and opportunities that lie ahead.