Consumer groups called on the Bureau of Internal Revenue to hold accountable for donor's tax several anti-vaping non-government organizations that received millions from US billionaires for more than a decade, and appealed to the agency to do a lifestyle check on the people behind these NGOs to see if they are paying the right taxes.
The call came following an explosive research published by Coalition of Asia Pacific Tobacco Harm Reduction Advocates (CAPHRA) on at least seven local NGOs receiving grant money from American billionaires Michael Bloomberg and Bill Gates to lobby for a ban of vaping in the country.
"You only see a few personalities with no actual physical offices, yet they receive millions of dollars from abroad. Where does the money go to?" said Anton Israel, president of Nicotine Consumers Union of the Philippines.
"These people are lobbying to ban the only scientifically proven less harmful alternative to cigarettes. Makes you really think. Are they really promoting public health or simply in it for the funds?" said Israel. "This is a highly deplorable, unpatriotic and inhumane act. I hope their conscience will let them sleep at night."
Vaper Ako spokesman Joaqui Gallardo said, "what we know is that donations are taxed by the government. Have these groups paid donors' taxes? The Bureau of Internal Revenue should look into this too." 
"They want the Senate to junk the vape bill. Do they want the vaping industry to go underground? Do they want the one million Filipino vapers to go back to smoking?" he added.
"Nicotine is addicting. So, if you are hooked, how else can you stop smoking? Millions around the world have made the switch to these less harmful products. Yet these NGOs present smokers only two options: Quit or die. What about those who want to quit but are really having difficulty?" Gallardo said.
Israel said, "it is disheartening to know that some local NGOs allowed themselves to be used by Bloomberg to ban vaping and openly attack Congress for trying to promote tobacco harm reduction."
Rep. Estrellita Suansing, in a hearing conducted by the House Committee on Good Government and Public Accountability on June 9, 2021, said that between 2007 and 2013, total grants by Bloomberg Philanthropies to government agencies and NGOs in the Philippines reached $6.29 million.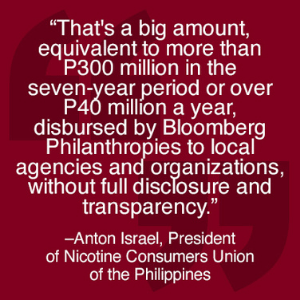 "That's a big amount, equivalent to more than P300 million in the seven-year period or over P40 million a year, disbursed by Bloomberg Philanthropies to local agencies and organizations, without full disclosure and transparency," said Israel.
The House committee report showed that recipients of the Bloomberg grants in the seven-year period included government agencies such as the Food and Drug Administration (FDA), Department of Health's Health Policy Development and Planning Bureau and National Center for Health Promotion, Metro Manila Development Authority and Civil Service Commission as well as several NGOs.
Among the NGOs, the Framework Convention on Tobacco Control Alliance Philippines (FCAP) alone received a total of $1.3 million or about P65 million in Bloomberg grants from 2007 to 2012, and it used the money to lobby for various ordinances and laws.
"This is too much money going to an organization used by a foreign charity to promote the latter's anti-vaping agenda in the Philippines," said Gallardo.
Other NGOs which served as conduits of Bloomberg funds between 2007 and 2013 were Center for Development-Manila (received $545,165 from 2007 to 2012) Action for Economic Reforms (received $405,306 from 2011 to 2013), Acts Inc. (received $158,405 in 2010), Health Justice Foundation Inc. (received $633,804 from 2009 to 2013) and New Vois Association of the Philippines (received $139,537 from 2012 to 2013), according to documents presented to the House Committee on Good Government and Public Accountability.
The House of Representatives earlier approved on third and final reading a bill that recognizes tobacco harm reduction as a public health strategy by regulating the use of non-combustible alternatives to cigarettes such as vapes and heated tobacco products.  The Senate is set to pass its own version of the bill, but the anti-vaping NGOs which accepted grants from Bloomberg launched an information campaign against the bill.
Gallardo said the Senate should investigate the findings of CAPHRA's research on the local NGOs as they continue to receive grants beyond 2007 to 2013, the period covered by documents presented to the House hearing.
"The same NGOs are now lobbying to stop the Senate from passing its own version of the bill that seeks to provide Filipino smokers with less harmful alternatives to combustible cigarettes.  We have a million vapers and users of smoke-free nicotine products who may be forced to return to smoking if we are deprived of better alternatives," Gallardo said.
The research paper, prepared by CAPHRA Philippines representative Clarisse Virgino, notes that Bloomberg's lobby money included at least eight grants since 2010 to HealthJustice Philippines; at least six grants since 2011 to Action for Economic Reforms; at least 10 grants since 2009 to Framework Convention on Tobacco Control Alliance Philippines; at least two grants since 2017 to Action on Smoking & Health Philippines; at least two grants since 2018 to Philippine Legislators' Committee on Population and Development; at least three grants since 2018 to Social Watch Philippines; and at least five grants since 2014 to New Vois Association of the Philippines.
The research paper showed that several billionaire-backed charitable organizations and pharmaceutical companies spent hundreds of millions of US dollars to force an anti-vaping agenda onto unsuspecting countries, including the Philippines, Australia, Malaysia and Pakistan.
"These foundations dismiss compelling international scientific evidence and apply bullying tactics to unduly influence the public health policies of sovereign nations. While many independent Asia-Pacific countries are delivering progressive and successful tobacco harm reduction policies and programs, big money and influence – mostly American – are conspiring to demonize their work," the research paper stated.
"The billionaires are tied to the charities with links to the pharmaceutical companies, which in turn are tied to the billionaires. Most alarmingly, they don't reveal these ties as money changes hands and their talking points are unwittingly parroted by government officials. Those who express opposing viewpoints are often publicly bullied into submission," the research revealed.
Citing a Public Health England (PHE) independent report, Virgino insists that vaping is more effective than nicotine replacement therapy in helping people stop smoking. PHE, in fact, advises smokers to switch to vaping to help them quit smoking.
A group of Filipino legislators recently called for the adoption of national policies prohibiting government agencies from receiving foreign grants without transparency and accountability.
Recognizing the need for strict policies to ensure "foreign donors" do not interfere in internal policymaking, the House Committee on Good Government and Public Accountability asked the Commission on Audit to conduct a full audit on the money received by the Philippine Food and Drug Administration from the Bloomberg Initiative to draft policies regulating vaping in the country.
The committee also recommended the review of the FDA Act on the receipt of grants and donations from local and international sources, as well as the law's implementing rules and regulations to reflect the realities that a grant may influence the grantee.