A number of Filipino doctors said the Vape Bill which was approved by Congress to regulate vaporized nicotine products (VNP) such as electronic cigarettes and heated tobacco products will end the smoking epidemic in the country and save millions of smokers.
Dr. Christian Luna, medical director of the Tulay Lingap Ni Padre Pio Surgicenter, said that cigarettes are the real enemy, and that VNPs are less harmful alternatives that can help end the use of cigarettes in the country.
"All of us in the medical community are united in our fight against smoking and seeing the end of the smoking epidemic for good. Thus, the government should regulate, and not ban, alternatives to cigarettes that are proven to be less harmful whether it is a nicotine patch, nicotine gum, vapor products or heated tobacco products. I think this is what the Vape Bill aims to do and hence, I express support to this measure," said Dr. Luna.
He made the statement after both chambers of Philippine Congress ratified last month the bicameral conference committee report on Senate Bill No 2239 and House Bill No. 9007 which aim to regulate VNPs and ban the sale of these products to minors.
Proponents of the Vape Bill described it as the first comprehensive law to regulate vape products that will give access 16 million Filipino smokers access to alternatives while providing strict safeguards to ensure that minors and non-smokers do not have access to these products.
Data from the World Health Organization show that 16 million Filipinos continue to smoke, with a dismal quit rate of only 4 percent. This results in about 100,000 deaths each year from smoking-related diseases.
Majority of Filipino smokers call for the regulation of alternatives to cigarettes. A survey conducted by ACORN Marketing & Research Consultants, the largest independent Asian research network, shows that 94 percent of Filipinos agree that the government should enact policies to encourage adult smokers to switch to less harmful tobacco alternatives.
This is in line with growing scientific consensus including that from the UK's Public Health England which found vapor products to be 95-percent less harmful than cigarettes.
VNPs will save the lives of 16 million Filipino smokers or at the very least reduce their health risks, according to Dr. Fernando Fernandez, Secretary General of the Asia Pacific Dental Federation and the past president of the Philippine Dental Association.
"Therefore, regulation and not prohibition is key. This is what the Vape Bill seeks to do. The Vape Bill is clearly a big win for public health. Those who would like to ban vaping may indirectly be supporting smoking. We don't want that," said Dr. Fernandez, an oral and maxillofacial surgery expert and an anti-smoking advocate.
Dr. Fernandez, who has personally witnessed what smoking does for patients who develop oral cancer, slammed the misinformation spread by some medical professionals who are against the Vape Bill. He said such personal beliefs of a few do not represent the opinion of all medical associations and doctors in the country. In fact, those who push for a vape ban may unwittingly be supporting smoking, he said.
A significant number of medical practitioners in the Philippines agree with the scientific findings of public health authorities in the United States, United Kingdom and the European Union that vapes are much less harmful alternatives to cigarettes, he said.
"It is unfortunate that some in the medical profession are making this a political issue. Let's all be professional and focus on the scientific discourse. The science has become extremely strong in recent years that e-cigarettes are less harmful than conventional cigarettes," said Dr. Fernandez.
"I hate cigarettes and smoking period. However, despite all our efforts in the medical community, the cases of oral cancer are still at an alarming rate. Many Filipino smokers will continue to get this disease if we don't act now," Dr. Fernandez said.
Dr. Romeo Luna Jr., president of the San Juan City Medical Center Staff Association, said he lost relatives and friends because the current smoking cessation strategies were not enough to make them stop smoking.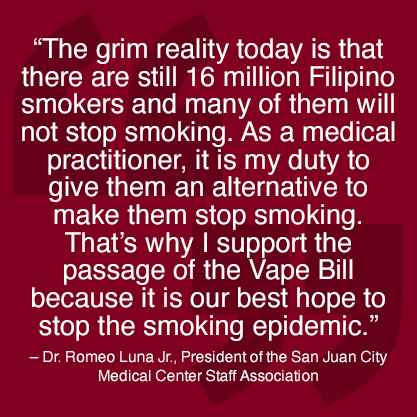 "The grim reality today is that there are still 16 million Filipino smokers and many of them will not stop smoking. As a medical practitioner, it is my duty to give them an alternative to make them stop smoking. That's why I support the passage of the Vape Bill because it is our best hope to stop the smoking epidemic,'' said Dr. Luna.
Dr. Telesforo Gana, past president of the Philippine Urological Association and past chairman of the Philippine Board of Urology, said he joined thousands of Filipino smokers who switched to less harmful alternatives to cigarettes.
"It took me a very long time to stop smoking. Without vapor products, I would not have been able to fully stop. The reality is many smokers will try to stop smoking, but will never be successful. That is what the WHO [World Health Organization] data says," Dr. Gana said.
"Smoker's lives matter too. We should not look at them as statistics. We need to have pragmatic solution to end the smoking epidemic. I hope the Vape Bill can be that solution so we can save the lives of 16 million Filipino smokers," said Dr. Gana.
On concerns over the impact of the Vape Bill on the youth, Dr. Arleen Reyes, past president of the Philippine Dental Association, said there are strong provisions in the bill that protect minors.
"There is no debate that vapor products should not be sold to minors or non-smokers and that this should be properly regulated. Hence, I fully support the inclusion of all necessary safeguards in the Vape Bill to protect minors and non-smokers," said Dr. Reyes.
"I don't agree that we should ban vapor products. If we do that, we will lose this public health opportunity to end the smoking epidemic. Let's not forget, smoking kills close to 100,000 Filipino smokers every year. That is around 300 Filipinos per day. A ban on vapor products only perpetuates the use of cigarettes that endangers the lives of 16 million Filipino smokers," said Dr. Reyes.
Dr. Reyes said that, "vapor products have been scientifically proven to be less harmful alternatives to cigarettes. With the passage of the Vape Bill, I am hopeful that it is only a matter of time that we will see a significant reduction on our country's smoking rates and smoking-related deaths and sickness."
"If we do not pass the Vape Bill, there will be another 100,000 Filipinos who will die of smoking-related diseases for the year 2022. It is for this reason I support the passage of the Vape Bill," she said.