The vape bill is expected to help millions of smokers in the Philippines switch to less harmful alternatives and prevent serious diseases and even death once the measure is signed by President Rodrigo Duterte into law.
Vaporized nicotine products (VNPs) such as e-cigarettes and heated tobacco products (HTPs) have already helped more than a million former smokers escape the deadly habit, including several political leaders and celebrities, according to consumer advocacy groups.
There are one million vapers and 16 million smokers in the Philippines, according to the Department of Health. Consumer groups said the ratification of the Vaporized Nicotine Products Regulation bill by the Senate and the House of Representatives will reduce smoking prevalence in the country by making less harmful options available to smokers.
Vapes and HTPs were found to be significantly less harmful than combusted tobacco, according to numerous international scientific studies. This is because these innovative products employ heating, instead of burning, to deliver nicotine.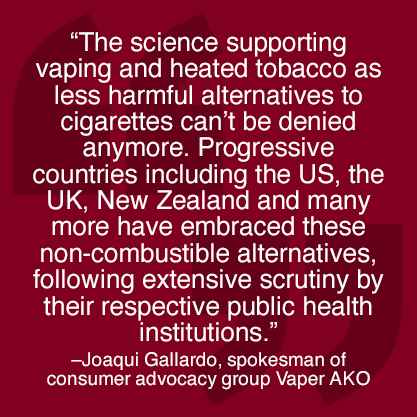 "The science supporting vaping and heated tobacco as less harmful alternatives to cigarettes can't be denied anymore. Progressive countries including the US, the UK, New Zealand and many more have embraced these non-combustible alternatives, following extensive scrutiny by their respective public health institutions," said Joaqui Gallardo, spokesman of Vaper AKO.
In the United Kingdom, which is known for its tobacco harm reduction policies, studies commissioned by Public Health England found that vapor products are at least 95-percent less harmful than traditional cigarettes.
In the United States, the Food and Drugs Administration agreed that nicotine is not the primary cause of smoking related diseases but the smoke from combustion.
Results of scientific research show that smoke produced by burning is the one responsible for millions of deaths globally and this could be reduced if smokers would stop smoking or switch to smoke-free or non-combustible products.
"In the Philippines, more than a million former smokers have made the switch. No less than the President's son, Vice-Mayor Sebastian 'Baste' Duterte has openly switched to a heated tobacco product," said Gallardo.
Manila Mayor and presidential candidate Isko Moreno is among the many individuals who have switched to heated tobacco product, according to the Nicotine Consumers Union of the Philippines (NCUP).
"More and more adult smokers who had no success in quitting smoking before have finally found what works for them to kick the deadly habit. A UK study concluded that non-combustible alternatives are twice as effective compared to nicotine replacement therapy in helping smokers quit," NCUP president Anton Israel said.
Israel said this is also evident in the Philippines. "More than a million vapers have already left smoking behind with the help of vapes and heated tobacco products. Si Mayor Isko nga na dating gumagamit ng Marlboro, ngayon nag-IQOS na for his health (Even Mayor Isko, who was a former Marlboro smoker, has switched to IQOS for his health)," he said.
Successful personal testimonies encouraged the Senate to approve the vape bill. Senate President Vicente Sotto said he personally witnessed how HTPs helped his brother—TV host and comedian Vic Sotto—quit smoking.
"I have a personal reason for voting yes. My brother was a heavy smoker for 45 years. When he switched to heated tobacco, he has stopped completely smoking and is very healthy," Sotto said in defending his vote in favor of the vape bill.
Sotto said the vape bill was specifically passed to provide smokers with alternatives to traditional cigarettes, and not to encourage minors and non-smokers to use these products.
The bill seeks to regulate e-cigarettes and HTPs, while providing 16 million adult Filipino smokers with less harmful options. It is also expected to end to the sale of unregulated and illegal products that do not meet government standards and do not contribute excise taxes to the government.
Once signed into law, the government will properly regulate the sale and use of these products and raise more taxes in support of the Universal Health Care program.
Consumer groups said the bill will also make tobacco harm reduction as a part of the Philippines' public health strategy. Countries which adopted progressive policies around vaping saw their smoking rates fall as much as twice faster than other countries, according to studies.
The Senate and the House included strong provisions in the bill to protect minors from accessing and consuming these products. It specifically bans the sale to and use by minors, and the sale, advertising and promotion of vape products within 100 meters of school perimeter and playground.
Under the measure, the use of flavor descriptors that unduly appeal to minors in vape products and the display of vape products immediately next to products of particular interest to minors are prohibited.
The vape bill also requires these smoke-free products to be registered with and regulated by the Department of Trade and Industry, thereby preventing smuggling and illicit trade of substandard nicotine products.
It will also support the livelihood of 2.7 million Filipino farmers and workers who depend on the tobacco industry.
The biggest benefits would be for smokers who are given more options that can reduce their exposure to toxins from smoke and help them kick the habit later on. A number of medical experts who are directly involved in treating smokers have confirmed the efficacy of vapor products in helping smokers quit.
One of them, Dr. Fernando Fernandez, Secretary General of the Asia Pacific Dental Federation and the past president of the Philippine Dental Association, said this is what makes the vape bill a big win for public health.
More than 76 percent of Filipino smokers wanted to quit, but only 4 percent were able to do so, according to government data.
Most Filipino smokers are also open to less harmful options.  A study by ACORN Marketing & Research Consultants, an independent Asian research network, shows that 94 percent of Filipinos agree that the government should enact policies to encourage adult smokers to switch to less harmful tobacco alternatives.