Four medical experts asked President Rodrigo Duterte, an anti-smoking advocate, to make a significant dent on the smoking prevalence in the Philippines by signing the vape bill into law and give millions of Filipino smokers less harmful option to move away from cigarettes if they find it hard to quit.
Dr. Rafael Castillo, former president of the Philippine Heart Association-Philippine College of Cardiology and the Philippine Society of Hypertension, said the Vaporized Nicotine Products (VNP) bill, when signed into law, "will be a historic legislation that will become part of the legacy of the Duterte administration." VNP products refer to smoke-free alternatives such as e-cigarettes and heated tobacco products (HTPs), which various studies found to be significantly less harmful than cigarettes.
"It will be the country's first comprehensive law that will regulate vapor products and provide strict rules on its use to protect minors. It also provides for detailed regulation so that the 17 million Filipino smokers can access these less harmful alternatives," said Dr. Castillo, a top cardiologist at the Manila Doctors Hospital and the only Filipino sitting as trustee at the International Society of Hypertension. He is also past president of the Asian Pacific Society of Hypertension.
Former National Kidney and Transplant Institute Chief Executive Officer Dr. Dante Dator, one of the country's leading urologists and, said the approval of the VNP bill by Congress is a historic win for public health as this will substantially diminish the impact of smoking on society.
Past chairman of the Department of Anesthesiology at Manila Medical Center, Dra. Assunta Mendoza said, "as a medical practitioner who has seen countless of lives lost due to smoking, I support the government's move to put an end to the smoking pandemic once and for all through the passage of the Vape Bill. Every smoker deserves a chance to be given an alternative to be able to stop smoking."
Quit for Good President Dr. Lorenzo Mata said the VNP bill, which recognizes tobacco harm reduction (THR) as a pragmatic public health approach, "will inform millions of adult Filipino smokers about less harmful alternatives that are available and should be available to them, while the youth and non-smokers are protected."
The VNP bill seeks to regulate the manufacture, sale and use of e-cigarettes and heated tobacco products (HTPs) which, according to overwhelming scientific studies, are less harmful alternatives to combustible cigarettes.
The Senate approved Senate Bill No. 2239 on third and final reading on December 16, 2021, while the House of Representatives approved House Bill No. 9007 on third and final reading on May 25, 2021.
"SB 2239 is a big win for public health because we give the 16 million Filipino smokers a chance to stop cigarette smoking, while protecting our minors from using these products as it provides regulation banning the sale to minors and banning the use of flavor descriptors that attract minors," Dr. Dator said.
"Public health regulators around the world are almost in agreement that vapor product alternatives are less harmful compared to cigarettes and can save the lives of many. This was also affirmed by a scientific study by public health experts in the US led by Dr. David Abrams of New York University that vaping saves lives," she said.
Dr. Mata, an occupational medicine specialist for over 35 years, said the VNP bill is in line with the THR approach that acknowledges the role of less harmful products in lessening the impact of tobacco on public health.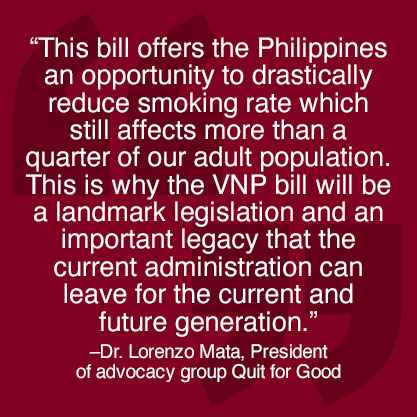 "This bill offers the Philippines an opportunity to drastically reduce smoking rate which still affects more than a quarter of our adult population.  This is why the VNP bill will be a landmark legislation and an important legacy that the current administration can leave for the current and future generation," said Dr. Mata.
Citing his vast experience, Dr. Dator said smoking is a cause of bladder cancer and other diseases. "As a trained practitioner in urology, I see in my clinical practice that smoking is one of the risk factors of bladder cancer and thus we want smokers to stop smoking. There is also evidence that smoking directly contributes to the onset of erectile dysfunction and not just secondary to its ill effects on the cardiovascular system," he said.
"The problem, however, is that many Filipino smokers are stubborn and refuse to stop or tried but could not quit smoking. I welcome the approval of SBN2239 as it gives Filipino smokers a less harmful alternative product for the meantime, which hopefully can reduce the health hazards attributable to end the smoking pandemic," Dr. Dator said.
Results of the 2015 Global Adult Tobacco Survey showed that more than 16 million Filipinos adults continued to use tobacco, with the proportion of smokers who successfully quit in the past 12 months remaining at only 4 percent. Globally, smoking kills 8 million people a year, according to the World Health Organization.
The bill has strong provisions that protect minors from accessing and consuming the vaporized nicotine products. Specifically, it prohibits the sale to and use by minors, and the sale, advertising and promotion of vape products within 100 meters of school perimeter and playground.
It also prohibits the use of flavor descriptors that unduly appeal to minors in vape products and the display of vape products immediately next to products of particular interest to minors.
Dr. Castillo, who was one of the first Filipinos who conducted the local scientific study that concluded HTPs contain less harmful chemicals than cigarettes, said the bill will also save the lives of Filipino smokers, if they are to quit or switch to less harmful alternatives.
"Once enacted into law, it will reinforce our concerted efforts to end the smoking epidemic once and for all, and help save countless lives. The potential benefits of saving, or at the very least, enhancing the quality of lives and improving long-term outcomes of smokers with this bill once enacted into Law, is a big opportunity we could not afford to lose," he said.