Spokesman for VAPER Ako highlighted the case of the Philippines FDA which admitted receiving funds from Bloomberg foundations.
Consumer groups warned the Philippine government against non-government organizations (NGOs) such as those linked to Bloomberg Philanthropies that were banned by India for providing grants to lobby for local policies.
They issued the statement after India banned more than 14,500 non-government organizations over the past five years, including four groups that received foreign grants from Bloomberg Philanthropies of US financial billionaire Michael Bloomberg which are reportedly involved in tobacco control lobbying.
India canceled the Foreign Contribution Regulation Act (FCRA) licenses of these NGOs for reportedly acting against India's national interests, misreporting donations, and lobbying against an established economic activity which raises multiple economic and social concerns.
These organizations call for a crackdown on NGOs serving as conduits for foreign vested interest groups.
The Nicotine Consumers Union of the Philippines Inc. (NCUP), Philippine E-Cigarette Industry Association (PECIA) and Vaper AKO, consumer and advocacy groups promoting tobacco harm reduction and a science-based approach to legislation, made the warning following the admission from the Food and Drug Administration (FDA) that it received grants from The Union and Bloomberg Initiative during a public hearing on vape and heated tobacco products (HTPs) on October 8, 2020.
The Union and Bloomberg Initiatives are promoting a prohibitive approach on tobacco control policies. The acceptance of the grants from these organizations raised questions on foreign interference with local policies and possible conflict of interest on the part of the FDA as they were tasked to craft regulations for e-cigarettes and HTPs.
NCUP president Anton Israel said that in India, NGOs are mandated to report and fully explain the use of foreign grants. "It is important that authorities are informed properly about the purpose of foreign grants and how such funds are being used in the country to promote national interest. NGOs are supposed to be partners of the government in nation-building, and not as conduits of foreign organizations," Israel said.
The FCRA aims "to regulate the acceptance and utilization of foreign contribution or foreign hospitality by certain individuals or associations or companies and to prohibit acceptance and utilization of foreign contribution or foreign hospitality for any activities detrimental to the national interest and for matters connected therewith or incidental thereto."
Under India's law, an NGO or academic center needs to register with the Ministry of Home Affairs to receive foreign funds and submit an annual income and expenditure statement on foreign funding.
Between 2017 and 2018, authorities canceled the registration certificates of the 1,808 NGOs because of non-submission of mandatory annual returns. Under the FCRA, all NGOs and associations have to file annual returns on time, with non-compliant NGOs issued notices and reminders online. Those that failed to submit a report on foreign funding on time lost recognition, tax exemptions and registration.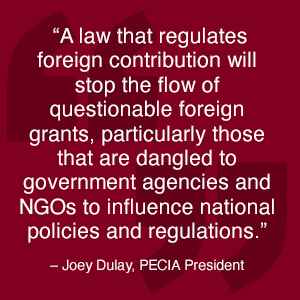 PECIA president Joey Dulay also asked the Senate and the House of Representatives to pass a law similar to India's FCRA to protect the national interest. "A law that regulates foreign contribution will stop the flow of questionable foreign grants, particularly those that are dangled to government agencies and NGOs to influence national policies and regulations," Dulay said.
Joaquin Gallardo, the spokesman of Vaper AKO, highlighted the case of the Philippines FDA which admitted receiving funds from Bloomberg foundations which are known for opposing tobacco harm reduction policies.
"The Bloomberg foundations have different channels in the Philippines that promote prohibitionist policies that put at a disadvantage Filipino smokers who want to try less harmful smoke-free alternatives or non-combustible nicotine products," Gallardo said.
Gallardo said recipients of funds from Bloomberg and other foreign organizations should fully explain how they use the money to remove the suspicion that they are trying to interfere with government policies.
Gallardo said the acceptance of grants by the FDA from Bloomberg's foundations was a serious breach of national interest because the FDA at that time was supposed to issue the implementing guidelines for the implementation of Republic Act No. 11467 and Executive Order No. 106 which allow but regulate the sale, distribution and taxation of vapor and HTPs in the Philippines which are considered better alternatives to conventional cigarettes.
"These are laws passed by Congress and signed by the President that a foreign lobby group tries to diminish by influencing the FDA in crafting the implementing guidelines. No wonder, the FDA issued an initial draft that looks like it wanted to ban e-cigarettes and HTPs altogether," said Gallardo.
"It is an example of a foreign grant from an organization that tries to influence the decision of the FDA against vaping, which has helped thousands of Filipino smokers quit," Gallardo said.
The Union, which has co-managed the Bloomberg Initiative to Reduce Tobacco Use Grants Program, confirmed on its website that it has been working with the DOH since July 2010 to "develop and promote legislation and policies that comply with the Philippines' commitments under the Framework Convention on Tobacco Control, including Article 6 on implementing tax and price measures to reduce the demand for tobacco."
In December 2020, Deputy House Speaker Deogracias Victor Savellano, representing Ilocos Sur's First District and Nueva Ecija First District Rep. Estrellita Suansing, filed a resolution directing the House Committee on Good Government and Public Accountability to conduct an inquiry, in aid of legislation on the alleged "questionable" receipt of private funding by the FDA in exchange for the issuance of specific and predefined policies against a legitimate industry under Philippine laws.
Gallardo said the legislative inquiry is a perfect opportunity for the House of Representatives to also discuss possible legislation that requires all NGOs to submit annual reports on the receipt and utilization of foreign grants to make sure that these funds would not be used against national interest.