Medical and scientific experts asked President Ferdinand Marcos, Jr. to reduce the death toll from
smoking by signing the vape bill that will provide 16 million Filipino smokers with less harmful nicotine
alternatives.
"We believe that it could help mitigate the serious health risks and possibly save the lives of more than 16
million current Filipino smokers who are at very high risk from getting sick and dying due to smoking-
related complications," a group of medical practitioners, healthcare professionals, academicians,
researchers, and experts in various scientific fields said in a letter addressed to the President through
Executive Secretary Victor D. Rodriguez on July 8, 2022.
"It is indisputable that smoking kills. The reality today in the Philippines is that there are approximately
110,000 Filipinos that die every year from smoking-related diseases such as lung cancer, stroke, and
heart attack to name a few. That is roughly 300 Filipinos dying every day from smoking-related
diseases. These are deaths that may have been prevented, if only they were given viable alternatives,"
the signatories said.
"We are referring to smoking alternatives like vape products that could, at the very least, help mitigate the
risks of serious smoking-related complications," they said.
They said the vape bill, once signed into law, will help 16 million Filipino smokers quit and reduce the
number of deaths and illnesses due to smoking. It is expected to be the Philippines' first comprehensive
law to regulate vapor products such as e-cigarettes and heated tobacco products.
The vape bill is a reconciled version of Senate Bill No. 2239 or the "Vaporized Nicotine and Non-Nicotine
Products Regulation Act" and House Bill No. 9007 or the "Non-Combustible Nicotine Delivery Systems
Regulation Act".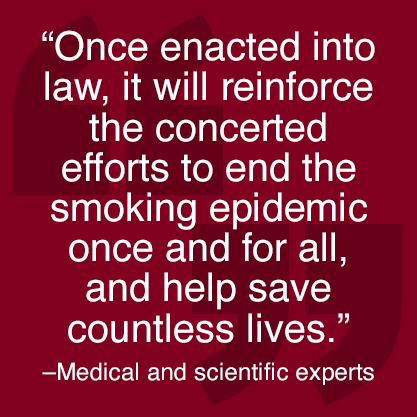 "We believe the passage of the Vape Bill
will be a historic milestone that will
become part of your administration's
legacy.  Once enacted into law, it will
reinforce the concerted efforts to end the
smoking epidemic once and for all, and
help save countless lives," the signatories
said.
"The potential benefits of saving, or at the
very least enhancing the quality of lives
and improving long-term outcomes of
smokers, with this bill once enacted into
law, is a big opportunity we could not
afford to lose," they said.
Among the signatories are medical
practitioners and healthcare professionals
who have been treating patients for
various smoking-related diseases for
many years as well as members of the
scientific community including Dr. Jose
Dante Dator, former executive director of
National Kidney and Transplant Institute;
Dr. Rafael Castillo, past president of Philippine Heart Association and Asia Pacific Society of
Hypertension; Dr. Arleen Reyes, past president of Philippine Dental Association; Dr. Romeo Luna Jr.,
president of San Juan Medical Center Staff Association; Dr. Telesforo Gana, past president of Philippine
Urological Association; Dr. Fernando Fernandez, past president of Philippine College of Oral and
Maxillofacial Surgeons; Dr. Howard Enriquez, past president of Philippine Society of Otolaryngology; and
Dr. Alvin Laxamana, past president of Philippine Dental Association.
The petition letter also includes as signatories, Dr. Assunta Mendoza, past chairman of the Department of Anesthesiology of Manila Medical Center; Dr. Christian Luna, medical director of Tulay Lingap Ni Padre Pio Surgicenter; harm reduction advocate Dr. Lorenzo Mata Jr., president of Quit for Good; Dr. Carlo Nofuente of Calamba Doctors' Hospital; Dr. Benjamin Abela Jr.; Dr. Erick de Castro of First Cabuyao Hospital and Medical Center; Dr. Christine Therese Santos, an ophthalmologist; Dr. John Hector Pagdanganan of Jose B. Lingad Memorial Regional Hospital; Dr. Benlor Buendia of Angeles Medical Center; Dr. Erwin Enrique of Our Lady of Mount Carmel Medical Center; Dr. Mark Santiago of Mother Theresa of Calcutta Medical Center and urologist and research investigator Dr. Rogelio Varela Jr.
Health professionals, professors and researcher, chemical engineers, professional fitness trainers, physicists and environmental management specialists, also signed the letter.
The World Health Organization revealed that only 4 percent of all Filipino smokers quit every year. Experts said this would take roughly another 25 years for all of the 16 million Filipino smokers to stop smoking—on the assumption that there will be no new smokers for the next 25 years.
"Mr. President, we all agree that we must exert all efforts to save as many smokers' lives as we can. Passing into law the vape bill is a significant starting point and a definitive step in the right direction to drastically reduce the number of smokers and the resulting deaths. Hopefully, it could help with our ultimate objective of making smokers quit for good," the letter stated.
A scientific study using the randomized controlled trial method, which is the gold standard for any scientific clinical study, conducted by the UK government and published in the New England Journal of Medicine in 2019 concluded that vape products were twice as effective in making people stop smoking compared to nicotine replacement therapies.
In another scientific study conducted by leading public health experts in the US, where there are around 38 million smokers, it was estimated that the "replacement of most cigarette use by e-cigarette use over a 10-year period could yield up to 6.6 million fewer premature deaths with 86.7 million fewer life years lost".
"The bottom line is that vaping can help smokers stop smoking and in the process reduce the number of deaths and sickness due to smoking," the letter read.