More restrictive policies such as bans and higher taxes on smoke-free products will discourage the switch from smoking and obstruct the objective of tobacco harm reduction which is to save more than a billion smokers globally, public health and consumer advocates said in the Global Forum on Nicotine 2022.
In a panel discussion during the GFN 2022 held in Warsaw, Poland, Norbert Schmidt, a software developer and member of the German vaping consumers organization IG-ED, said the proposed vape tax calculations in Germany would be detrimental for vapers.
"These tax levels will render them more expensive than cigarettes, thus discouraging a lot of smokers from switching. Many vapers will evade to a black market, try their luck with DIY, or return to smoking," said Schmidt.
Vapes (e-cigarettes), nicotine pouches, Swedish snus and heated tobacco products (HTPs), which have been shown in multiple independent, international research studies to be significantly less harmful than smoking tobacco, are among the alternative nicotine products identified during the GFN 2022.
Federico N. Fernández, executive director of Argentina-based Somos Innovación, said vaping and other alternatives are giving humanity the best chance to end the problem of smoking. Unfortunately, existing regulations are more stringent on these smoke-free products than combustible cigarettes which they are supposed to replace.
Influential anti-vaping groups also spread misinformation about nicotine and smoke-free products. Dr. Roberto Sussman of the National University of Mexico said that, "anti-vaping sources such as the World Health Organization (WHO), academics, regulators, anti-tobacco NGOs, groups funded by Bloomberg Philanthropies act as merchants of doubt when citing and quoting flawed studies to cast unjustified doubt and confusion on the safety of vaping".
Some groups in the Philippines, for example, continue to call for the ban on smoke-free alternatives, which are found by science to be less harmful than cigarettes.
In the United States, Lindsey Stroud, director of the Taxpayers Protection Alliance's Consumer Center and board member of the American Vaper Manufacturers Association, said regulators such as the US Food and Drug Administration should recognize harm reduction and regulate based on a continuum of risk, recognize differing devices and hold manufacturers accountable.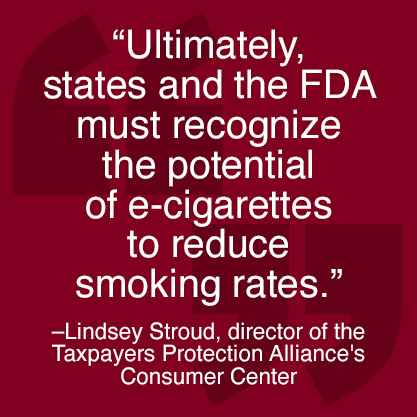 "Ultimately, states and the FDA must recognize the potential of e-cigarettes to reduce smoking rates," said Stroud.
On a separate discussion during the global forum, panelists said tobacco harm reduction (THR), a public health approach that involves the use of less harmful nicotine products compared to combustible cigarettes, will help low and middle-income countries (LMICs) address the smoking epidemic that kills 8 million people annually.
"Let's not forget that 80 percent of the world's users of risky tobacco products live in low-and middle-income countries," said Dr. Sudhanshu Patwardhan, who led the open meeting on the topic "Reducing harms from tobacco in LMICs- challenges and opportunities".
Dr. Patwardhan, co-founder of the UK-based Centre for Health Research and Education (CHRE) who is passionate about helping people quit risky forms of tobacco, said LMICs should not be forgotten in the discussion on tobacco harm reduction.
THR, an evidence-based public health approach grounded in human rights, consists of pragmatic policies, regulations and actions that reduce health risks to individuals and communities by providing access to less harmful forms of products or substances, or encouraging less risky behaviors.
Dr. Patwardhan said the reduction in smoking prevalence is not fast enough in LMICs where most smokers live and work. This is because LMIC are less able to offer smoking cessation support to their populations and have healthcare systems that are less able to manage early diagnosis and treatment of smoking-related diseases.
The WHOw said more than 80 percent of the 1.3 billion tobacco users worldwide live in LMICs, where the burden of tobacco-related illness and death is heaviest.
"Safer alternatives could play a central role in decreasing morbidity and mortality associated with tobacco product usage," Dr. Rachel Murkett, project director of life sciences consulting firm Biochromex, said in another panel discussion on vaping and other safer nicotine products during the GFN 2022.
Marc Gunther, a journalist who writes about philanthropy and tobacco control policy, said specifically that Bloomberg Philanthropies' crusade against vaping is doing more harm than good.
Bloomberg Philanthropies, which was founded in 2006 by billionaire Michael Bloomberg, has funded programs to encourage many countries in LMICs to ban e-cigarettes. Its anti-tobacco initiative covers 112 countries, with a focus on the world's largest smoking populations including in China, India, Indonesia and Bangladesh.
"I was surprised to find that the organizations supported by Bloomberg as well as the man himself were saying many things that turned out not to be true. Other claims by the opponents of vaping turned out to be false as well," said Gunther.
Bloomberg Philanthropies donated millions of dollars to the WHO, which offers policy advice and technical assistance to governments of LMICs.
Gunther said WHO's messaging around e-cigarettes is one-sided, misleading and harmful. "The WHO somehow manages to confuse people about questions that should be settled by now—the fact the e-cigarettes are less dangerous than cigarettes, the fact that e-cigarettes had nothing to do with the outbreak of EVALI, the fact that vaping can help people who want to quit smoking," he said.
"The issue is complicated, but I don't think it is too hard to reach an evidence-driven policy that balances the needs of adult smokers with the risks to kids: Make vapes available to adults, double down on efforts to keep them out of the hands of young people and most importantly, tell the truth about the science," said Gunther.
Participants in GFN 2022 said tobacco harm reduction, using less harmful nicotine products, offers new choices to millions of people worldwide who want to switch away from smoking. They said the full potential of tobacco harm reduction can only be realized if it is integrated into the global public health approach to tobacco, alongside existing tobacco control measures.