Medical doctors' clear understanding of electronic cigarettes or vapes will provide a great opportunity to reduce the harm caused by smoking among the adult population, according to a major US study.
The study undertaken by researchers from Rutgers, The State University of New Jersey and published in the Journal of the American Medical Association (JAMA) Network Open, said that with many patients inquiring about e-cigarettes, it is important to understand the perceptions and recommendation practices of physicians as they are a trusted source of health information and are facilitators to tobacco use cessation.
It said e-cigarettes may play a pivotal role in the new US Food and Drug Administration (FDA) nicotine policy framework and thus may affect tobacco use patterns throughout the country.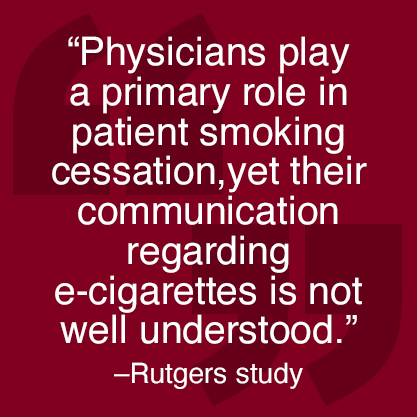 "Physicians play a primary role in patient smoking cessation, yet their communication regarding e-cigarettes is not well understood," according to the national cross-sectional survey of 2,058 U.S. physicians from family medicine, internal medicine, obstetrics and gynecology, cardiology, pulmonary and oncology in 2018 and 2019 about their communication with patients about e-cigarettes. 
"As the evidence base grows for e-cigarette efficacy for smoking cessation, physicians' understanding of e-cigarettes in the context of harm reduction must keep pace with the emerging scientific evidence through effective educational opportunities.  Such opportunities should address e-cigarette safety and efficacy and correct misperceptions that all tobacco products are equally harmful," the study said.
The study found that more than half of the physicians believed that all tobacco products are equally harmful, and this belief was associated with lower rates of recommending e-cigarettes. This is unfortunate as data show that 480,000 Americans die each year from smoking tobacco
"As the evidence grows showing e-cigarettes as potentially effective for smoking cessation, they may play a pivotal role in reducing use of cigarettes and subsequently tobacco-caused disease," said study author Michael Steinberg, medical director of the Rutgers Tobacco Dependence Program at the Center for Tobacco Studies and division chief in the Department of Medicine at the Rutgers Robert Wood Johnson Medical School.
"It's important to understand physicians' perspectives on e-cigarettes as a means for harm reduction," said Steinberg.
"These findings show it is critical to address physicians' misperceptions and educate them on e-cigarettes' efficacy, particularly correcting their misperceptions that all tobacco products are equally harmful, as opposed to the fact that combusted tobacco is by far the most dangerous," said lead author Cristine Delnevo, director of the Rutgers Center for Tobacco Studies and professor of Health Behavior, Society and Policy in the Rutgers School of Public Health.
The results of the Rutgers study are consistent with the observation of the panelists in the recent Global Forum on Nicotine (GFN) 2022 topic "Misinformation: Who can we Trust". The panelists said physicians and other health professionals are among those who contribute to misinformation about smoke-free products such as e-cigarettes.
"The opinion of doctors and health care professionals carry a lot of weight," said William Stewart, president and founder of Povaddo, a US-based public opinion research firm. "When people lack information, they are more susceptible to misinformation. Tobacco harm reduction is a prime example of this."
Stewart said a 26-country survey conducted by Povaddo showed that nearly half of those surveyed wrongly believe that e-cigarettes and heated tobacco products are more harmful than or equally harmful as cigarettes.
He also underscored the results of a recent study showing that "the vast majority of adults say that decisions that impact society and public health should be made on the basis of science and facts".
"Misinformation may win the sprint from time to time, but I remain confident that science and facts will ultimately win the marathon," said Stewart.
Dr. John Oyston of Canada said there is a lot of disinformation about vaping in countries like Canada, where the mainstream media, medical foundations and anti-tobacco groups spread misinformation about e-cigarettes.
Dr. Roberto Sussman of the National University of Mexico also said that, "anti-vaping sources such as the World Health Organization, academics, regulators, anti-tobacco NGOs, groups funded by Bloomberg Philanthropies act as merchants of doubt when citing and quoting flawed studies to cast unjustified doubt and confusion on the safety of vaping".
GFN is an international conference that focuses on how vapes, nicotine pouches, Swedish snus and heated tobacco can help people switch away from smoking. This year's GFN with the theme 'Tobacco Harm Reduction – here for good' was held at the Marriott in Warsaw, Poland from June 16 to 18.