The new Chief Executive Officer of Philip Morris International vowed to sustain his company's vision for a smoke-free future in the Philippines at a faster pace with its non-combustible cigarette alternative IQOS.
Jacek Olczak, the former chief operating officer, replaced André Calantzopoulos who was named the executive chairman of the board following the company's 2021 annual shareholders meeting. "I am humbled and excited to lead PMI as we accelerate our transformation into a smoke-free company. During my almost 30-year career with PMI, I have seen the company grow and prosper and reach new heights of success as I take over the reins of the company," said Olczak.
"I have been with Philip Morris for 30 years, but what I went through the last five years was presumably the most exciting years in my career," he said, referring to the group's decision to start offering smoke-free products such as the heated tobacco system under the IQOS brand.
"So based on how much we have achieved so far in the market place and based on how much we achieved so far with the technology and the science substantiating the product, I think we have everything in our hand to go offer that solution to every smoker in the world," Olczak told a virtual press conference from Switzerland.
He said IQOS devices were designed for smokers in both high-income as well as low- and middle-income countries like the Philippines. "This is not only the product for developed countries. This has to be accessible and affordable to smokers in developing countries. We have demonstrated so far that IQOS can be also successful in all of these places," he said.
"In the design of the product, we put into consideration different consumer preferences. Some may be taste, affordability, and different price points. We try to make it attractive to smokers but have the price level that corresponds to the affordability level of the country," he said.
"The solutions and the technology and the scalability of this technology allows that the problem of smoking can be solved in any country at any income level in the world today," he said.
Olczak said that as a responsible company, PMI has embedded technologies in new products that allow age verification to ensure minors do not have access. "Our objective is by 2023, all our devices should be equipped with such technology," he said.
Olczak also expressed interest to pursue mergers and acquisitions as he recognized the success of existing partnerships, including the one with Fortune Tobacco Corporation of Lucio Tan in the Philippines. "Our business combination with Tan family's Fortune Tobacco has proven to be very successful , and I am very happy with this partnership and we also start slowly but surely getting focused on bringing IQOS to the Philippines," he said.
"When it comes to mergers and acquisitions, we remain progressively very open. Sometimes, it is better to partner with somebody as you look for synergetic effect with collaboration," he said.
Olczak said wants to expedite the global smoke-free transition. "I think as any big corporation, there is a room to go faster. You are continuously improving, you are continuously training, and I believe we can become more agile," he said.
Olczak, who was also elected to the board of directors, said he is confident that 50 percent of the company's net revenues will come from smoke-free products by 2025, up from almost 25 percent in 2020 and essentially zero in 2015. He noted that PMI's smoke-free products are now available for sale in 66 markets, with 14 million or more than 70 percent of 19 million IQOS users having fully switched and stopped smoking.
Olczak, who is from Poland, said with the contributions of more than 70,000 employees, PMI will accelerate the pace of its smoke-free journey, guided by science, facts, innovation, imagination and new thinking. "I believe that the strategies and the visions we applied served us very well even during such as the challenging period like the past 18 months because of the pandemic. I am extremely happy and proud to take over the winning teams and you can be very creative with your dreams knowing that you have such as team behind you," he said.
"While cigarette sales today remain a large part of PMI's business in most countries, but those who follow us would have noticed that this is changing quite rapidly. Today, essentially or 99 percent of our research and development budget is spent on the new products. We completely stopped investing in the development of combustible cigarettes. Second, 76 percent of our commercial expenditures are fully dedicated to smoke-free products," he said.
Olzcak said PMI closed 2020 with about 25 percent of net revenues coming from new products. "Actually, the number is even higher for the first quarter of this year. I think we reached the level of 28 percent in the first quarter," he said.
"The most important is that five years from now, we think these new products should account for 50 percent of our revenues. Some people are still questioning how realistic it is. I can assure you that I will do, my company will do every effort to make this happen," he said.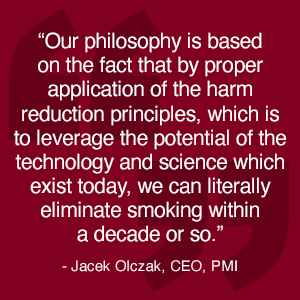 "Our philosophy is based on the fact that by proper application of the harm reduction principles, which is to leverage the potential of the technology and science which exist today, we can literally eliminate smoking within a decade or so," he said. "Personally, I would not be surprised that within the next five to 10 years, at least in a few markets, we will completely resolve the problem of combustible cigarettes."
He said this is because more countries started revising their regulations to recognize these innovative products and implement harm reduction principles at its best. "So you would see what is happening in Germany, Greece, Japan, New Zealand, UK, and quite recently Lithuania. 
They are updating their old policies that were designed before the advent of smoke-free products and they recognize that today's technology is very important, and what is science is saying and the opportunities it gives," he said.
He said PMI's business is also going beyond nicotine. "It is always in my mind—a very logical step once we feel comfortable where we have solutions to existing problems," he said. "We have built the capability, and not only is it serving us well for what we are doing today, but now we can come to the territory where we can start leveraging the capability for completely new products."
Olczak said these include inhalation products and botanicals. "I think we will start putting the first step towards respiratory drug delivery which in other words means delivering medical substance via inhalation," he said.
"We have made investments in a company in Israel called Syque," he said, referring to the company behind an inhalation device for the administration of pharmaceuticals and medicinal plants which are contained in a unique cartridge.
He said PMI is also looking at botanicals that might have a positive impact on the human body. Olczak said PMI already invested in Medicago, a Canada-based company which is already in Phase 3 of clinical trials for its Covid-19 vaccine produced using tobacco plant.