Consumer groups in the Philippines asked e-commerce company Lazada to remove illicit vape products sold on its online platform to protect buyers.
The Philippine E-Cigarette Industry Association (PECIA) and the Nicotine Consumers Union of the Philippines (NCUP) asked Lazada to follow the lead of Shopee in purging unregistered vape products in compliance with Republic Act 11900 or the Vaporized Nicotine and Non-Nicotine Products Regulation Act which became a law on July 25, 2022.
The law covers vapor products, refills, vapor product devices, heated tobacco products, HTP consumables and devices, and novel tobacco products.
With the effectivity of the IRR on December 28, 2022, all prohibited items under RA 11900 should no longer be found in the retail market, whether online or offline.
PECIA president Joey Dulay said that Lazada, as one of the most popular online marketplaces in the country, should safeguard consumers' welfare by ensuring that they are protected from the dangers brought on by unregistered, substandard products.
"The DTI has made it irrevocably clear that it is incumbent on Lazada to comply with the mandate of the Vape Law, it's implementing rules and regulations, and Joint Administrative Order No. 22-11. Shopee, a platform of similar scale and widespread popularity, has already taken down over a million unregistered vape listings on their site. The issue should merit similar urgency from Lazada," Dulay said.
The NCUP, who wrote separate letters to Shopee and Lazada in January this year, commended Shopee's swift and decisive action against illicit vape products and strongly encouraged Lazada to follow its rival's lead.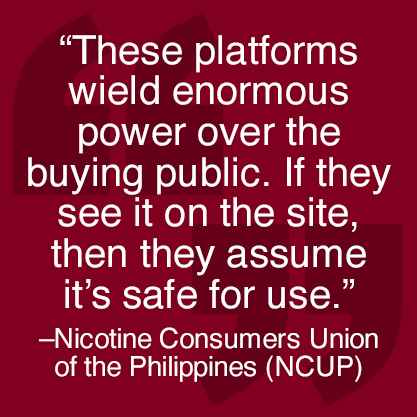 "These platforms wield enormous power over the buying public. If they see it on the site, then they assume it's safe for use. Lazada plays such a crucial role in deterring consumption of these illicit products. There are now laws in place to regulate vaporized nicotine products, but these cannot be properly implemented if the platforms themselves fail to comply," said NCUP president Anton Israel in his letter.
The Department of Trade and Industry (DTI) through the Consumer Protection Group (CPG) earlier met with e-commerce platform representatives on March 1 to address the proliferation of prohibited vaporized nicotine and non-nicotine products being advertised and sold online despite the ongoing monitoring and enforcement efforts.
Lazada executives attended the dialog, along with officials from Shopee, Facebook/Meta, Grab Express, Carousell, among others.
A day after the dialog, Shopee reported the removal of more than 1 million prohibited vape listings from its platform. It also promised to strengthen its monitoring of illicit vape products and pledged its continued cooperation with the trade agency.
Under RA 11900, only BPS-registered and certified vaporized nicotine and non-nicotine products, their devices and novel tobacco products with the applicable graphic and textual health warnings should be sold to the general public by June 2024.
JAO 22-01 also known as the Guidelines for Online Businesses Reiterating the Laws and Regulations Applicable to Online Businesses and Consumers makes e-commerce platforms liable in the same manner as individual sellers for the sale of fake products.
PECIA is the largest e-cigarette trade industry organization in the Philippines, with more than 200 store-owners, suppliers, and manufacturers as members and 8,000 allied vapers, representing over 1 Million consumers of smoke-free products in the Philippines.
NCUP is a nonprofit national advocacy organization that believes that the rights and interests of millions of Filipino smokers and vapers alike need to be protected and safeguarded from substandard, unregulated, and non-registered tobacco/nicotine products and alternative nicotine products.