The Philippines' newly-enacted vape law has strict provisions that aim to protect minors, while helping adult smokers switch to less harmful alternatives, according to top medical specialists.
"I fully support the restrictive provisions of the vape law that prohibits minors from accessing these products. No one will dispute that we should protect our minors from getting access to these products. Thus, I laud our lawmakers for incorporating many provisions designed to deter access by minors, prohibit the use of flavor descriptors and penalize those who will violate said provisions," said Dr. Assunta Mendoza, past chairman of the Anesthesiology Department of Manila Medical Center.
Republic Act No. 11900 or the Vaporized Nicotine and Non-Nicotine Products Regulation Act regulates the importation, manufacture, sale, packaging, distribution, use and communication of vaping products such as e-cigarettes and heated tobacco products (HTPs).
Health experts lauded the 18th Congress and the Marcos administration for allowing RA 11900 to become a law on July 25, 2022 as this will help eradicate the smoking epidemic and help more than 16 million Filipino smokers quit.
 "We in the medical community would like to thank our lawmakers and the President for enacting this important piece of health legislation that is meant to eradicate the smoking epidemic in the country. Smoking is our biggest enemy because it is the leading cause of preventable deaths in the country," said Dr. Arleen Reyes, past president of the Philippine Dental Association (PDA) and the chairman of the Scientific Committee for the Asia Pacific Dental Federation.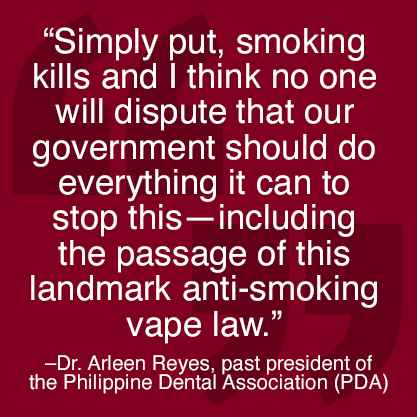 "Simply put, smoking kills and I think no one will dispute that our government should do everything it can to stop this—including the passage of this landmark anti-smoking vape law," said Dr. Reyes.
Dr. Rafael Castillo, past president of the Philippine Heart Association (PHA) and the only Filipino doctor who sits in the board of trustee of the UK-based International Society of Hypertension, said: "The passage of this law is a step in the right direction because we are adding another public health tool to drastically cut down smoking rates in the country. In fact, many public health regulators around the world have already said that vaping is significantly less harmful than smoking as supported by available scientific evidence."
"I have said it before and I will say it again, this anti-smoking vape law will save the lives of many Filipino smokers or at the very least reduce their health risk of getting serious smoking-related diseases," said Dr. Castillo.
Data from the World Health Organization and the Department of Health show that there are more than 16 million Filipino smokers, resulting in more than 100,000 smoking-related deaths annually. The Philippines also has a very low smoking quit rate of 4%, which means that not even 1 out of 10 smokers will quit every year.
Results of the 2015 Global Adult Tobacco Survey (GATS) showed that nearly a quarter, or 23.8 percent of Filipino adults were tobacco users. Of the total, 18.7 percent (13.1 million) were smoking daily, with an average of 11 cigarettes a day.
Public Health England, the highest health authority in the UK, consistently said that e-cigarettes are at least 95-percent less harmful than combustible cigarettes based on scientific studies. It said alternative nicotine delivery devices, such as nicotine vaping products, could play a crucial role in reducing the enormous health burden caused by cigarette smoking.
Experts said the passage of the vape law will enable the Philippines to properly regulate these alternative nicotine delivery devices such as vapes and heated tobacco products. The law also provides for very stringent rules to ensure that minors are not able to have access or be lured into buying these products. It also bans the sale of high nicotine vape products or those with nicotine content above 65 mg/ml.
The law equalizes the minimum age of access to cigarettes and vapes to ensure that all adult smokers are provided with better alternatives. It prevents minors from buying these products and imposes stiff penalties on violators.
The House of Representatives approved House Bill (HB) 9007 with 195 affirmative votes, 34 negative and 4 abstentions on third and final reading on May 25, 2021, while the Senate passed Senate Bill (SB) 2239 voting 19 in favor, only 2 nay and 2 abstentions on Dec. 14, 2021.
Pursuant to the provisions of Section 27, paragraph (1), Article VI of the Constitution, the VNNP Bill automatically became a law on July 25, 2022, 30 days after it was transmitted to the Office of the President on June 24, 2022.