Some 370 respirators are rotting in the Department of Health warehouse after the agency refused to distribute them to hospitals in the middle of the Covid-19 pandemic because they were donated by the tobacco industry.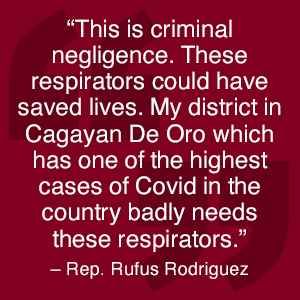 "This is criminal negligence. These respirators could have saved lives. My district in Cagayan De Oro which has one of the highest cases of Covid in the country badly needs these respirators," an aghast Deputy Speaker Rufus Rodriguez told the House Committee on Good Government.
The reason the DOH cited for holding on to the donated respirators is the Joint DOH- Civil Service Commission Memorandum Circular 2010-01 signed by then CSC chair now DOH Secretary Francisco Duque III prohibiting government interaction with the tobacco industry which includes receipt of donations.
In the same hearing, CSC Commissioner Aileen Lourdes Lizada said she has moved to recall the "defective" JMC and admitted that they found no record in their office granting Duque authority to sign the JMC in behalf of their "collegial body."
Puwersa ng Bayaning Atleta Rep. Jericho Jonas Nograles said it is the primary duty of the DOH to save the lives of Filipinos yet they chose to prioritize their campaign against tobacco first.
The discovery of the rotting respirators surfaced during the public hearing conducted by the House Committee on Good Government on reports that the DOH and the Food and Drug Administration received money from anti-tobacco, foreign interest groups led by the Bloomberg Initiative.
"It is sad that the DOH prioritized the advocacy of foreigners at the expense of the lives of Filipino people," Nograles said.
"The DOH did not perform its function because they are really against the tobacco industry," Rodriguez said. "They should answer to this."
AAMBIS-OWA Rep. Sharon Garin said it is ironic that Bloomberg and other anti-tobacco philanthropies have not helped our country during this Covid pandemic and yet the donations from the tobacco industry are not being utilized.
The committee zeroed in on the Joint JMC after learning that the CSC also received funding from Bloomberg and shortly after issued the circular prohibiting interaction with the tobacco industry.
Garin said there are many cases already of a foreign interest groups giving government agencies money and pointing to a direction they want us to take. "We should not let this happen. We are a sovereign people."
Nograles said Congress should recommend striking down the JMC for lack of legal basis.
Since there is no record authorizing Duque to sign the JMC, Nograles said the circular is void ab initio (void from the start)
Rep. Michael Edgar Aglipay, chairman of the Good Government Committee, said their report will include names of people who should be held accountable for various Philippine laws violated.