The arrest of a famous Taiwanese actress and her friends in Bangkok and the hefty fine they had to pay to go home have caused uproar in the online community and renewed discussion on regulation of smoke-free alternatives in the Asia-Pacific region, according to consumer groups.
Charlene An, a 32-year-old actress, narrated in a viral social media post her traumatic experience in Bangkok for mere possession of a vape product. She said she and her friends were apprehended by Thai police and made to pay a hefty fine of 27,000 baht (about S$1,080) before they could leave. She said they were also threatened with criminal charges for the possession of vaping device.
Thailand's police commissioner later issued an apology following An's post, and seven officers were placed under investigation for alleged extortion.
An's viral social media post caused alarm among Asian consumer groups who underscored the importance of fair, reasonable and science-based regulation governing smoke-free alternatives like vapes and heated tobacco products.
Thailand continues to impose a ban on vaping despite reopening its tourism sector to millions of foreign tourists, including former smokers who decided to switch to vaping. The Southeast Asian country received 11.5 million international visitors in 2022 alone. While e-cigarettes are illegal in Thailand, they are widely available for sale on online shopping platforms where standards and quality are not enforced.
The Nicotine Consumers Union of the Philippines asked countries in the region to reconsider less-harmful cigarette alternatives to reduce harm from smoking.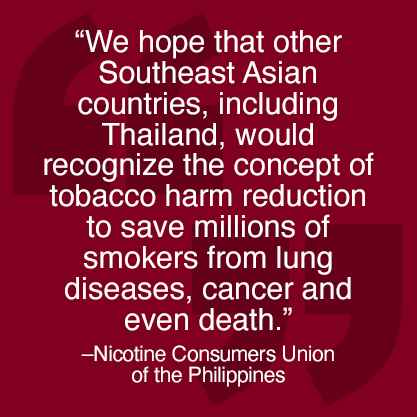 "We hope that other Southeast Asian countries, including Thailand, would recognize the concept of tobacco harm reduction to save millions of smokers from lung diseases, cancer and even death. Smokers should be given access to less harmful products and make better decisions for themselves," said NCUP president Anton Israel.
"Vapes and heated tobacco products are tobacco harm reduction products that deliver nicotine without burning tobacco significantly lowering the number of harmful chemicals than smoking. Many progressive countries, including the UK and Japan, recognize the role of these products to help smokers abandon cigarettes. Both these countries recorded significant decline in smoking prevalence following the introduction of vapes and heated tobacco products," said Israel.
NCUP is a nonprofit advocacy organization which believes that the rights and interests of smokers and vapers need to be protected and safeguarded from substandard, unregulated and non-registered tobacco, nicotine and alternative nicotine products. The group has been advocating THR as a public health policy solution.
Citing the United Kingdom's Office for National Statistics, advocacy group Consumer Choice Center representing consumers in over 100 countries said in an article on its website, "the number of smokers aged 18 and over has decreased from 14.0 percent in 2020 to 13.3 percent in 2021. In fact, this is the most effective decrease since it was first recorded in 2011 by 20.2 percent."
Meanwhile in Japan, The Japanese National Health and Nutrition Survey reported significant decline in adult cigarette smoking prevalence after heated tobacco products were introduced in the market. Smoking prevalence dropped to 13 percent in 2019 from 20 percent in 2014.
ENDS Cigarette Smoke Thailand earlier said some officials of Thailand, including Digital Economy and Society Minister Chaiwut Thanakamanusorn, support the legalization of vaping to give smokers the option to quit.
The group said smoking kills about 50,000 Thai people every year as they are deprived of less harmful options. The National Statistical Bureau said that as of 2021, Thailand had more than 10 million smokers.